With the wedding being a family occasion for us and me working in archives and generally enjoying everything to do with genealogy, it was always inevitable that elements of this would creep into our recent nuptials. We might have stopped at the 'Victorian Amethyst' of my lovely ladies' bridesmaid dresses – but we didn't! While we didn't have an overall theme as such, we melded lots of our joint interests into something that very much represented 'us'. The colours were purple, silver, ivory and black, we had genealogical bits – more later – but we also had sci fi bits (everyone sat at a table named after a fictional star ship…!)
First, the venue. Thanks to John and Nicole at beautiful Bateman's Barn, St Cross South Elmham in Suffolk for providing us with the perfect venue, complete with a Grade 1 listed, moated manor house, romantic ruin, walks to South Elmham Minster, medieval wall paintings and of course the barn, dating from 1270, where we actually tied the knot. We had a wonderful time and our thanks go to both Nicole and John for working so hard to give us a brilliant day with loads of fantastic food – we would recommend them to anyone. See http://www.weddings.batemansbarn.co.uk/ and www.batemansbarn.co.uk for more information.
Perhaps my favourite aspect was the "wedding line", a chronological series of wedding photographs of family weddings all the way back to the 1870s. It was a great ice breaker between the families and organising the photos in this way was really interesting too, because all over the Country, the same standard poses are evident. To show which family was which, my family had purple labels, and his silver. Weddings ranged from Badingham in the 1870s and Blackburn in the early 1900s all the way across the pond to a GI wedding in Ohio and a Vegas shot featuring a recent wedding on hubby's side. Obvious too were the WWI and WWII weddings, on both sides of the family.
The most entertaining conversations were perhaps the "that's where your nose comes from!" types. Children were poking fun at their parents and of course aunties, uncles and even the bride and mother of the groom appeared as bridesmaids and best men in other peoples' photos.
Next, the place settings. Each person at the 'main event' (we had an evening session too) had a mini family tree, all drawn by me, showing their recent ancestry, where I knew it. (Note I didn't investigate anyone's history I didn't already know very well – new boyfriends and girlfriends would have found that more than creepy!) It was very helpful here that I also got my now-Mother-in-Law into Ancestry, to the point where, being able to devote more time to it, her trees are now even bigger than mine! Here are a couple of examples:
Standing around outside the bar? Perfect opportunity to check out the family tree of our cat, Moo. Why was our feline friend involved? Simply because it's much easier to make a large bowtie ancestor chart with a common denominator linking my family with my husband's. Not having any kids, the cat had to step in! Not everyone would have been interested, but it was a fun way to showcase our research, and most people there for the whole shebang shared at least part of our tree.
On a personal note, I also wore a brooch that belonged to my Great Grandmother as my something old – it could even be seen on her 1930s wedding photograph in the wedding line. My something blue may also have historical connetations of some sort…!?
There are loads of other people I'd like to thank, and I include their details and websites here in no particular order….
Christopher Warner, our pianist, who converted my favourite Pantera track to a song I could walk down the aisle to, who played the Game of Thrones theme for us to sign the register, and even a Star Trek medley for us to exit to (yes, really, people were trying to work out why they recognised it, but couldn't quite believe it might be Star Trek). www.thecambridgepianist.co.uk
Bray's Cottage pork pies for creating an incredible three tier pork pie for the reception. Three flavours – chilli, onion marmalade and chorizo. Can you say 'yum'? www.perfectpie.co.uk
Callendar's in Framlingham for gorgeous flowers to match the theme including beautiful pedestals and table arrangements, not to mention the button holes and my lovely bouquet. www.framlinghamflorist.co.uk
The Black Swan pub at Homersfield, for keeping the boys entertained until it was time for them to come across. www.homersfieldblackswan.co.uk
For my, and my bridesmaids', hair, the fab Emily Glasspoole at Example in Norwich. http://www.facebook.com/pages/Example-Hair-Salon/309123999122921
DK Wedding Photography, the fabulous Tim and James, who have given us the best photos we could have asked for, including all those on this blog. www.dkweddingphotography.co.uk
The registrars from Waveney, who did a great job of the ceremony, put us both at our ease and of course shared a knowledge of BMD certs with me! Also the bus company, Simonds, who ferried my evening guests from and back to Norwich: http://www.simonds.co.uk/
Elma, our incredible fire dancer, who entertained the crowds and wowed everyone who watched. http://fleuriefire.weebly.com/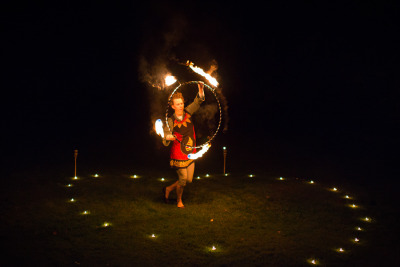 There are others – Ngaire who did my make up, Sarah and Karen who made my cake – but they don't have websites. Nevertheless – THANK YOU! Last but no means least, our families and friends, without whom there would be no wedding, and no genealogy.